Hello Lovelies, Today I'm trying something new that I would love to continue doing. I love blog-prompts and why not add a spice of fashion, darkness, and fun? Each month the beautiful Sophistique Noir has a theme for fellow bloggers to post about. This month the theme is "Someone Special". Since I just learned about the monthly theme, my homework is a little late but here goes. ;)
While I have several "Someone Special's" in my life, today I'm focusing on Metallicat aka: Keykey, Mr. Tubbs, or the black one.
Metallicat was Garrett's cat when I first met him. I walked in his door and there sat the most precious, fat, black cat I'd ever seen. He purred and snuggled in my lap immediately. From that moment on we have been best friends. :)
It never fails, when I need him the most this little furball is there. In the 5 years I've lived here, I don't think a tear has fallen and not landed on Metallicat's fur. When Garrett and I argue, Metallicat will march right between us and tell us we are being stupid. He meows at us until we stop.
We almost lost him in '08. He had a severe upper respiratory infection and had to stay in a kitty ICU bubble. :( He was at the vet for over a week and a half. Garrett and I both went stir crazy. It made us realize how much we depend on that cat for so much.
After that I had his and his brothers pawprint tattooed on my chest.
Sometimes I like to trick myself into thinking I take car of him but every day he reminds me that it's quite the opposite. He is my big, fluffy, black rock and I love him.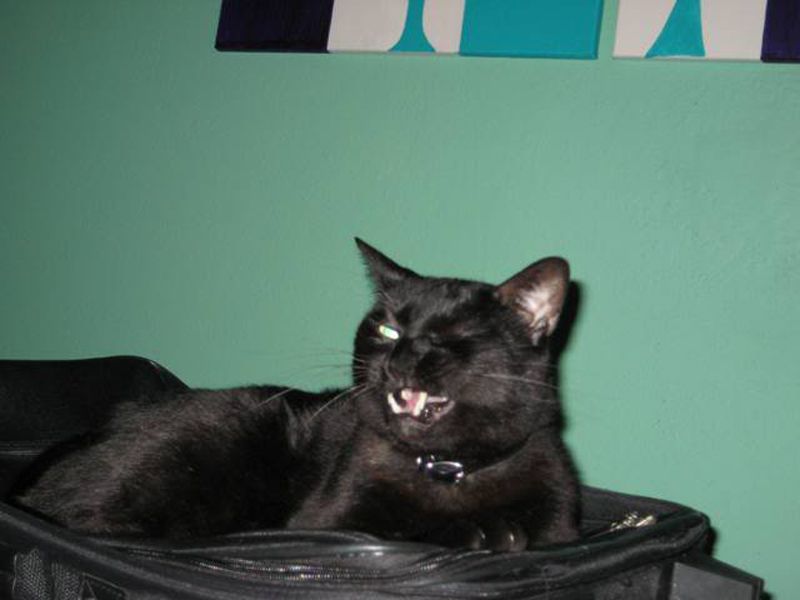 And this one because I know all the cat-lovers can relate.